Your computer mouse is designed to move the cursor intuitively and smoothly across the screen, a task that is made far more efficient with a mouse pad. While the mouse can function without a pad, using one keeps the mouse's sensors clean and clear of potentially damaging dust and debris. It also improves the mouse's ability to sense and transmit movement without jittering or sticking. Mice with optical sensors respond best to the nonreflective finish of the mouse pad surface.
If it's been a while since you used a mouse pad, you may be surprised by the number of options now available. There are hard and soft surfaces, ergonomic designs, oversize, and lighted mouse pads to choose from among others. The best mouse pad is comfortable, fits the allotted space, works smoothly with your mouse, and complements your personal desktop aesthetic. Keep reading to learn what to look for in today's top products and see why the following are among the best mouse pads for your computer desk.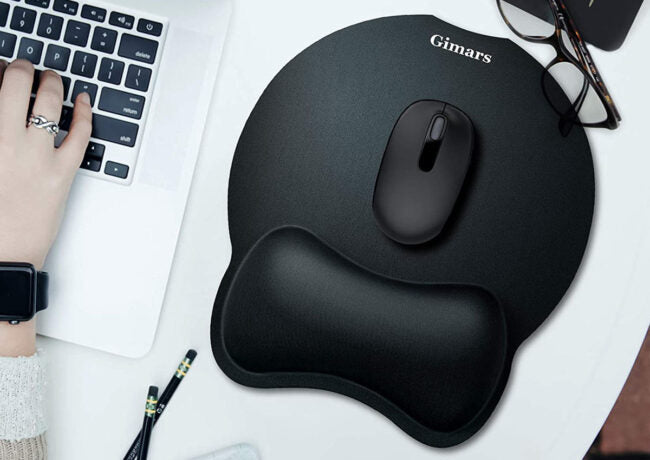 What to Consider When Choosing the Best Mouse Pad
Perhaps more than almost any other desk accessory, a mouse pad is a subjective purchase. While using one is bound to enhance performance and comfort, selecting the best mouse pad for you depends on your personal computer habits and preferences.
Size
Mouse pads range in size from 5-inch by 7-inch models that are not much larger than your hand to giant 24-inch by 48-inch pads that cover the entire desktop. While a smaller size is quite functional and versatile (relative to the space allotted), an extended size can have several benefits. These may include providing a nonskid surface for the keyboard, a padded wrist rest, and more mousing flexibility, especially with wireless mice. A larger pad also lends to a cleaner overall look with a seamless transition from mouse to keyboard.
Material
In general, soft mouse pads are best for roller ball mice and hard mouse pads are recommended for optical mice. Soft mouse pads are typically made from neoprene or some other rubber material with a bonded fabric surface. This offers a cushy, nonslip surface that is inexpensive, comfortable, and effective. Hard mouse pads are mostly made of hard plastic, or metal, with a nonslip backing. They allow optical mice to move smoothly and precisely and are ideal for gaming.
Feel
A soft mouse pad offers a cushioned feel and the ability to control friction, while hard mouse pads have consistent friction and a firm feel. Hard mouse pads can include a thin or thick base for added comfort. Cushioning in both hard and soft mouse pads helps to even out the low spots on textured desk surfaces for a smoother glide. Cushioned mouse pads come in a variety of thicknesses, between 2 millimeters and 5 millimeters. Thicker pads provide more cushioned comfort, but they can allow the mouse to sink in if too much pressure is applied.
Ergonomics and Wrist Rest
Ergonomic mouse pads, like keyboards of the same type, help improve hand and wrist position for greater user comfort. They feature a padded cushion to keep the wrist elevated, reducing user fatigue and eliminating friction between the wrist and the desk surface. Many users love the added comfort, while some find the raised wrist pad cumbersome.
Wireless Charging
Wireless charging allows rechargeable battery-operated electronic devices, such as a wireless mouse or cellphone, to charge over a very short distance via the energy in a magnetic field. A wireless charging mouse pad is an office device that is designed to multitask, allowing the mouse to operate efficiently while keeping devices charged. These mouse pads only charge devices that support wireless charging, so you may need to upgrade your mouse if you choose such a pad.
Lighting
Mouse pad lighting is purely aesthetic. It can add a mellow or exciting vibe to the office or gaming experience. LED technology provides edge lighting or backlighting in a variety of colors.
Aesthetic
Mouse pads have been used for decades as personalized gifts and promotional giveaway items because they are in a prominent location throughout the day. Similarly, you can make your own aesthetic statement by choosing the right look. Solid black, bright colors, funny quotes, art prints and more could make your desktop space more personalized.
Our Top Picks
Whether you hope to add excitement to your gaming sessions or reduce wrist fatigue at work, a better mouse pad can help. The product picks here meet the criteria detailed above and suit a host of work and gaming goals.
If you want a durable, hard surface mouse pad for your desktop or to take on the go with your laptop, the HONKID Metal Aluminum Mouse Pad is worth checking out. It features a double-sided design with both a smooth surface and a micro-textured faux leather surface.
This aluminum mouse pad is a quality all-around choice for optical mice, and its textured side works well with mechanical mice, too. Both sides support smooth, precise mouse movement. The waterproof surface is easy to clean and safe from spill damage. This 9.05-inch by 7.08-inch mouse pad is suitable for working or gaming.
For simple functionality at a value price, the VicTsing Mouse Pad may be just the ticket. This 10-inch by 8-inch mouse pad is 2 millimeters thick and has durable stitched edges that prevent fraying.
The low-friction textured surface supports smooth, precise mouse motion and works with both mechanical and optical mice. A nonslip natural rubber backing keeps the pad securely in place. The fabric surface withstands spills and is easy to clean.
Gamers are likely to appreciate the extended size, backlighting, and fast, smooth surface of the Blade Hawks RGB Gaming Mouse Pad. The large 31.5-inch by 12-inch size provides an ample surface, plus a nonskid keyboard base. The micro-textured surface is ultrasmooth and waterproof.
The rubber base features 10 lighting modes, including seven static modes and three dynamic modes, to make the gaming atmosphere more intense. A power-off memory function retains the last mode selection. It is plug and play, powered by USB, and doesn't require a driver.
Available in black or three different graphic patterns, the VicTsing Extended Gaming Mouse Pad offers a broad, nonslip surface for mouse and keyboard operation. The oversize 31.5-inch by 15.75-inch surface has plenty of space for dynamic gaming movements and a comfortable working experience.
With 2 millimeters of cushioning, this mouse pad is compatible with both mechanical and optical mice. It features an ultrasmooth fabric surface for fast, accurate mouse movement, plus a nonslip rubber base and a water-resistant coating.
The Razer Sphex V2 Gaming Mouse Pad offers excellent tracking quality for laser and optical mice. It's made of super tough, waterproof polycarbonate for longevity and durability. At only .5 millimeters thick, the ultrathin profile provides a nonobtrusive feel for those who prefer zero elevation above the desktop.
The gaming mouse pad stays in place by means of an adhesive backing that attaches and removes easily and cleanly. The overall size is 14 inches by 10 inches; a "mini" 10.6-inch by 8.5-inch version is also available.
If you spend long hours working on your computer, the VORNNEX Ergonomic Mouse Pad could help reduce fatigue. Compatible with both mechanical and optical mice, it features a memory-foam wrist rest pad to elevate the hand and reduce wrist strain.
After hours of use, the 10-inch by 9-inch oval pad quickly regains its original shape. A nonslip rubber base keeps the pad in your preferred position.
The Gimars Upgrade Memory Foam Mouse Pad is designed to create a comfy working environment and might even help minimize wrist pain. The contoured memory-foam wrist pad design elevates, cradles, and cushions the wrist to reduce pain and fatigue. The wrist rest is finished with Lycra fabric for a pleasantly smooth feel.
The large, flexible 10-inch by 9-inch work surface offers plenty of space for the full range of motion. The work surface is made of smooth, multi-spandex fiber for easy, accurate mousing. The nonskid bottom surface is made of natural rubber.
If you want to literally light up your dynamic gaming experience, check out the UtechSmart RGB Gaming Mouse Pad. It features 14 unique lighting modes: eight static modes plus alternating wave, synchronizing wave, alternating flash, alternating red changing, synchronize breathing, and alternate breathing.
When game time is over, you can switch off the lights and get to work, as this UtechSmart is an all-around quality mouse pad. It has an overall surface size of 31.5 inches by 11.5 inches and is 2 millimeters thick. It has an ultrasmooth, waterproof top surface and a nonskid, natural rubber lower surface. It's plug and play, and it requires no driver.
For the added convenience of recharging while you work, the SIGNO Wireless Charger Extended Mouse Pad offers wireless charging. It supports wireless charging on any wireless 5- to 10-watt chargeable devices. This thick 4.5 millimeter pad has a working area of 31.5 inches by 11.8 inches to fit the mouse and keyboard with plenty of extra room for work or gaming.
The wireless mouse pad boasts 10 LED lighting modes: seven single color display modes and three slow color change modes. Other features include a textured fabric surface for precise mouse control, anti-fray stitched frame, and an anti-skid rubber base.
FAQs About Mouse Pads
If you're still wondering which mouse pad may be best for you, read on for answers to common questions that may provide all the information you need.
Q. What happens if you don't use a mouse pad?
Eschewing a pad can reduce the life span of a mouse. Without a pad, the mouse's internal sensors can easily pick up dust and dirt. What's more, plastic mouse feet wear down more quickly on surfaces like a bare desktop, paper, or pants legs.
Q. How do I choose a mouse pad?
Consider the type of mouse you use (roller ball or optical/infrared). Use a soft mouse pad with a roller ball. A hard mouse pad allows an optical mouse to function most efficiently, but a soft pad will work, too. Complete your choice according to personal comfort and aesthetics.
Q. What size mouse pad do I need?
Choose an extended mouse pad if you are a gamer who plays with the mouse set to a low DPI. This will ensure you have enough space for mouse motion. In other situations, choose pad size based on your aesthetic and personal comfort. An extra-large pad provides a nonskid surface for the keyboard and adds padding for the wrists. Many users simply prefer the look and feel of a smaller mouse pad.
Q. What is an RGB mouse pad?
An RGB mouse pad features built-in red, green, and blue LED lighting. It is powered by a connection to the computer and adds a fun aesthetic to the desktop.
Q. What is the best color for a mouse pad?
Black office equipment is traditional in the business world, and it works great for mouse pads. Mouse pads can come in any color, but they should not be in the same color spectrum as the
mouse's laser because color absorption can cause lag time. Mice with red lasers, for instance, should not be used on red surfaces.
Q. How do you clean a mouse pad?
Soft, nonelectric mouse pads may be submerged in warm water. Use a few drops of dish soap and a soft bristle brush to scrub the surface clean, then rinse in warm water, and pat dry with a towel. Next, lay the mouse pad cloth side down on a dry towel to finish drying completely before using.
Use a clean microfiber cloth moistened with warm soapy water to wipe down a dirty RGB or other hard-surface, electric mouse pad. After cleaning with the soapy cloth, wipe off any soap residue with a fresh cloth dampened with clear water. Allow it to completely dry right side up before using.