Mozano × DCS Domikey Die for me Keycap Set
"Sometimes a dehumanized neurosis is more attractive than a virgin Virgin Mary."
"A beautiful, smart, innocent, and even a little 'evil' girl. She usually buys nice clothes and eats delicious food. She will cry when she can't eat it, and then make fun of the people around her. Will deliberately pretends to be pitiful to attract other people's love...But she never hesitates to kill someone, and every time she does, she puts a rabbit doll on the corpse..."

Through the above description, you may come up with the image of an indifferent and female killer. This is an inspiration for a designer, who designed a mechanical keyboard keycap, also called "Die For Me", named after Villanele, a heroine in "Killing Eve".
This keycap is produced by Domikey, a professional brand focusing on high-end customized keycaps, providing beautiful, comfortable, durable and highly customizable keycaps for mechanical keyboard users.
The keycaps have the original factory height with mod plus, iso, space and other kits are integrated in the arrangement, also the big base distribution mode is adopted, which can meet the needs of most arrangements.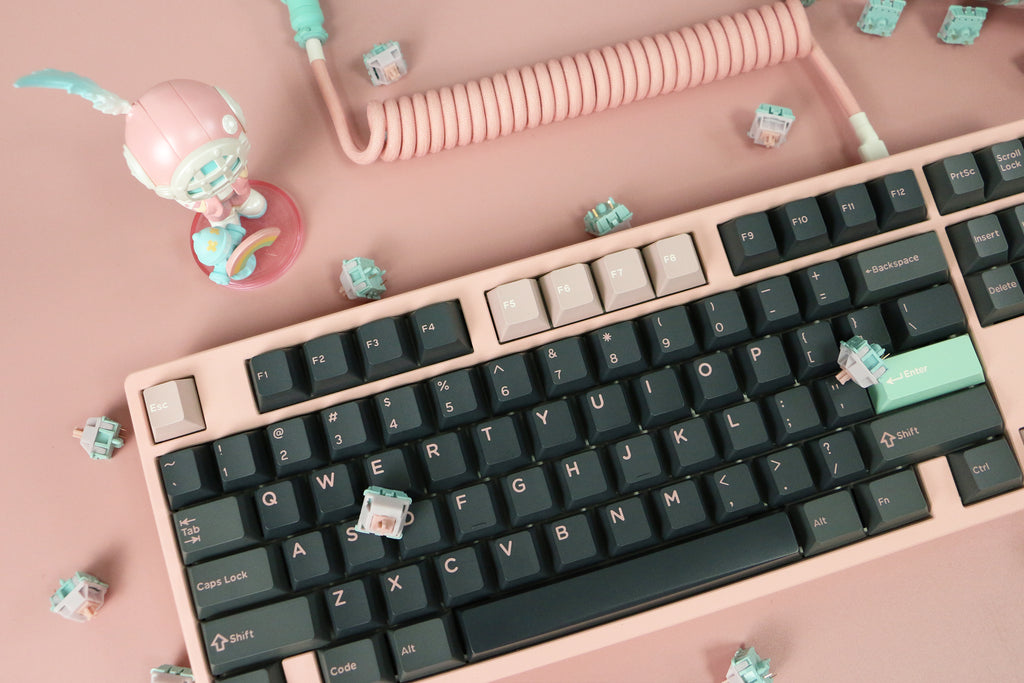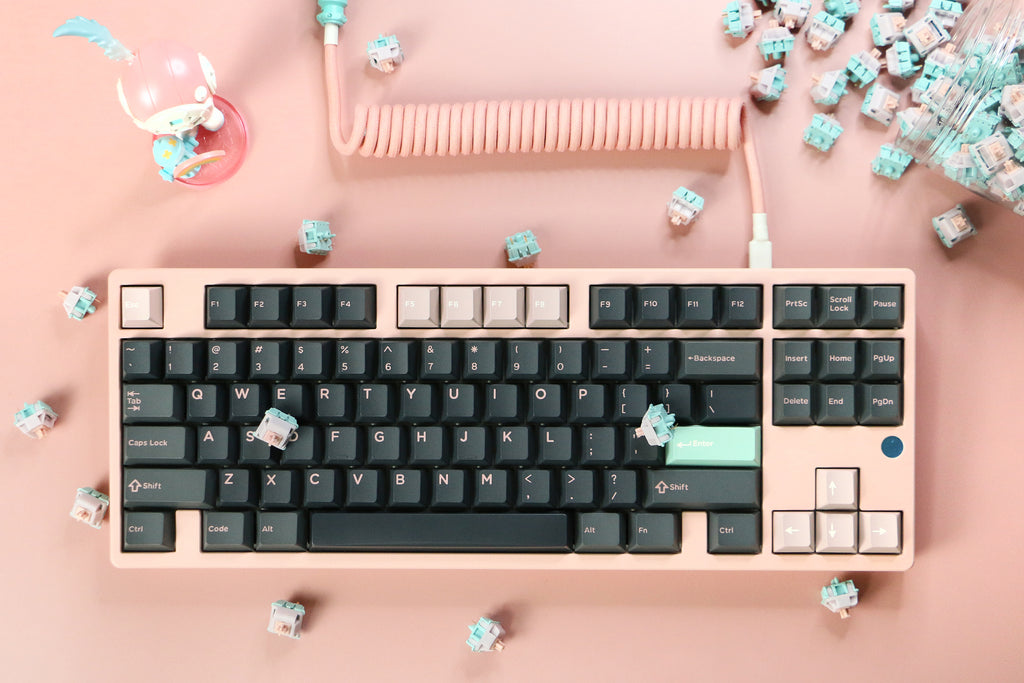 Keycap parameters:

Height: Cherry height

Material: ABS two-color molding

OEM: Domicy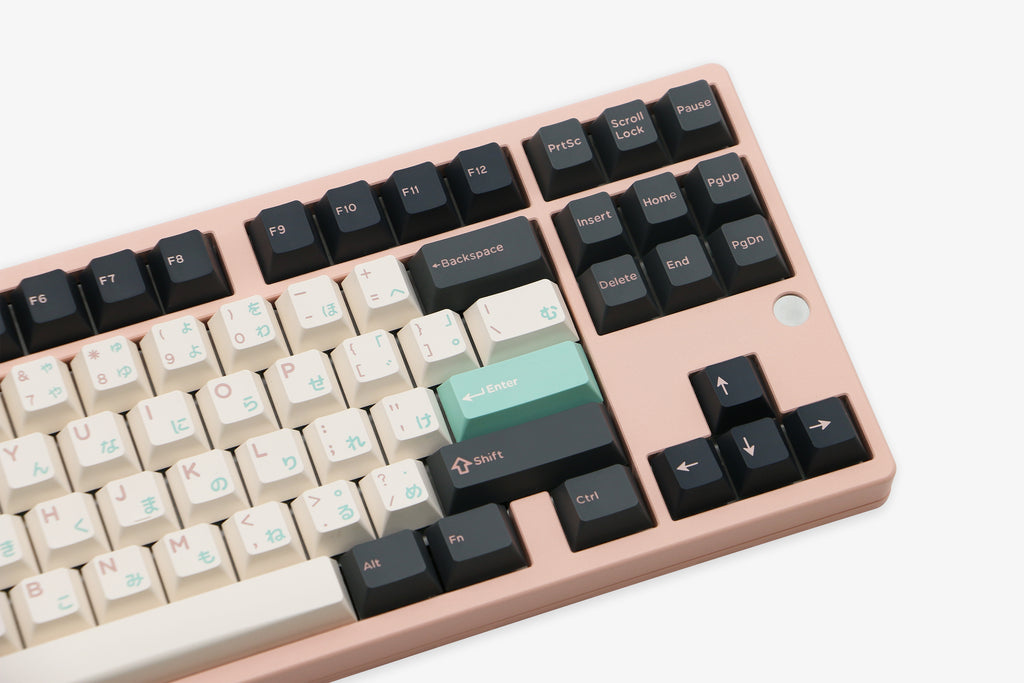 In addition, based on the Villanele keycap, there is also a shaft with the same theme, named "Eve switch". The color matching of the shaft body echoes the small perverted keycaps, and three main color matching are used, the upper cover is pale lavender, the lower cover is pale blue, and the axis is pink. The overall tone is fresh and vibrant and well-matching.

Switch details
OEM: JWK

Material: five-legged linear shaft, upper and lower shell nylon pa66, shaft lengthened upe

Spring: 48g trigger, 55g bottoming, extended single-stage gold-plated spring, Japanese material

Stroke: 3.7±0.3mm

Shaft life: 5000w times

Color: Axis Pantone 692c, upper cover Pantone 9244c, lower shell Pantone 4173C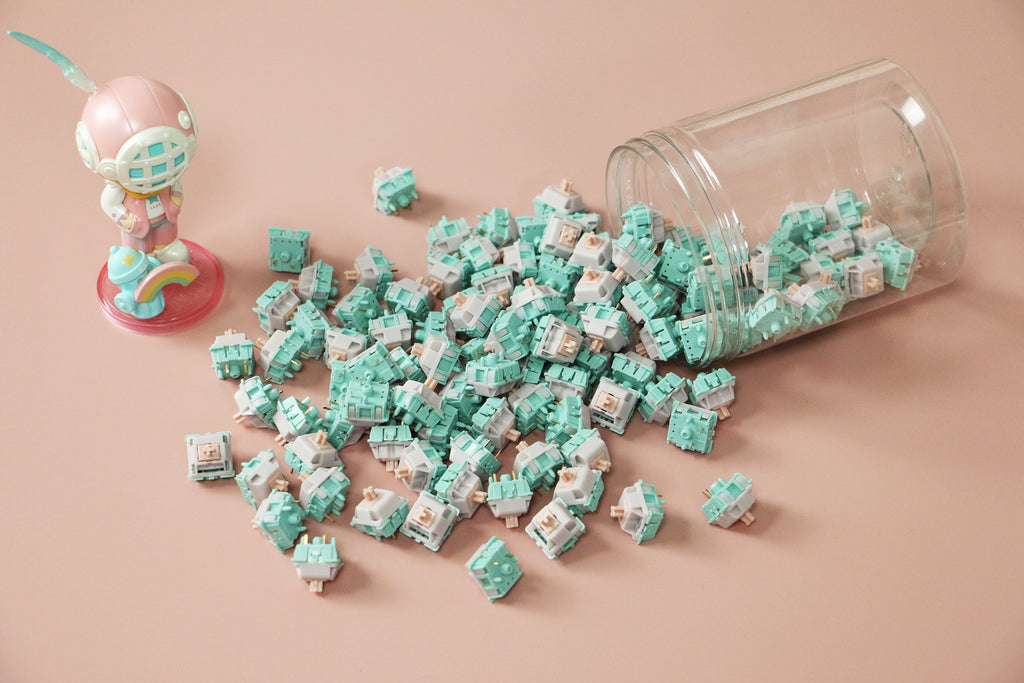 After you have the "DIE FOR ME" keycaps and switches, you also need a high-end aviation plug data cable (mechcables) to match. This data cable is purely handmade by a professional studio, and the color matches our popular keycap and switch of the same name. It is your very excellent choice. Pink mesh and Uptown Gold Techflex material paired with white heat-shrink tubing (also with metal tips) and light green connectors characterize the DIR FOE ME — cute to death. Just like the female killer Villanelle, this cable can give you a whole new experience. The coiled design easily integrates into a variety of spaces, while the detachable Air Plug port lets you change connections in seconds. Get started with Type-C connectors to add some unique character and the best experience to your desktop.
Custom Coiled Cable Details:
Accessories: pure copper chrome plating

Wire material: PU set of imported woven cloth + Pet mesh

Separate connector: pure copper customized CNC aviation connector

USB shell and plug: pure copper customized CNC shell + 5u gold-plated terminal

Output shell and plug: pure copper customized CNC shell + 3U gold-plated terminal

Counterweight: pure copper customized CNC counterweight

Output type: type-C interface

Length: 1.4m